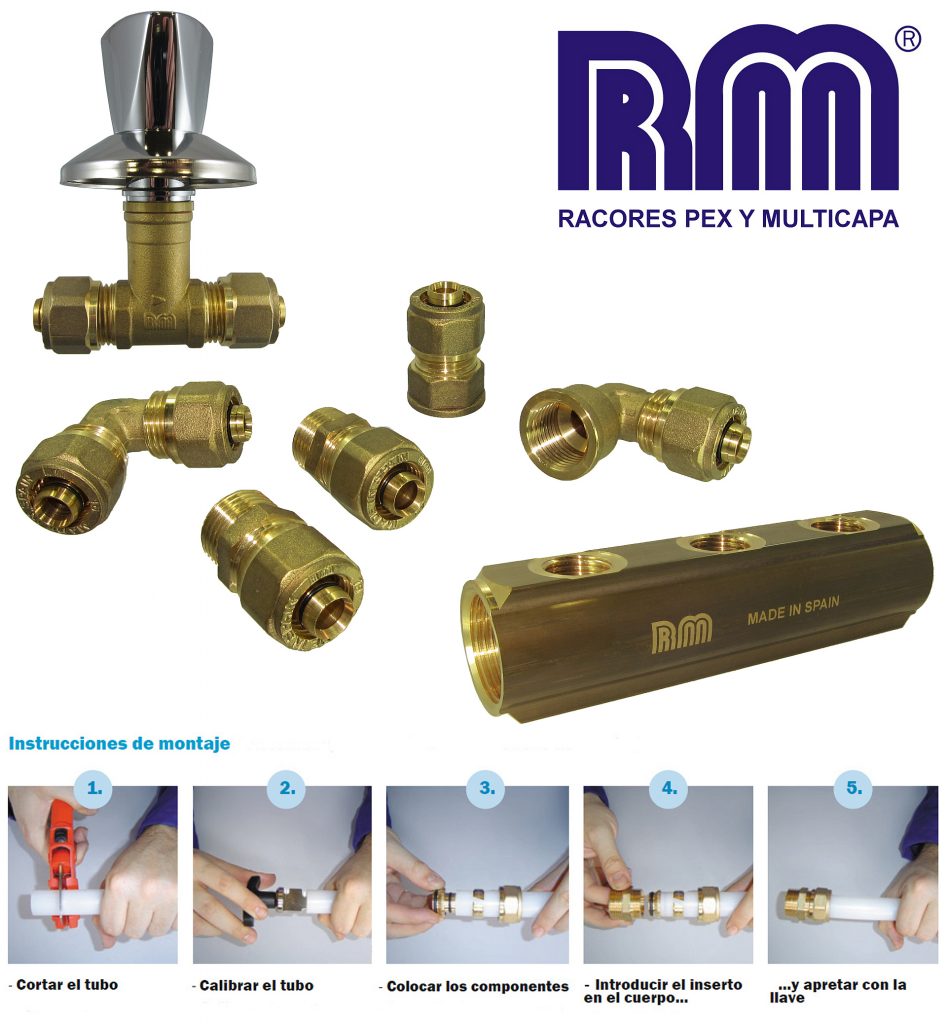 Rafael Márquez Moro and Cia will present a complete range of fittings for heating and plumbing with PE-x pipe and multilayer tube installations at Eurobrico.
The company has prepared the family of fittings for PEX/multi-layer and collectors. A complete range of fittings including address changes, derivations, straight marriages, plugs, collectors, stopcocks, etc., in versions attach - attach connection tubing with tube and attach - threading to connect tube with threaded accessories.
This family of fittings made of brass allows the connection of cross-linked polyethylene pipe (PE-X) and also of polyethylene multilayer pipe (plastic pipe with intermediate aluminium core). The union with polyethylene tube in the(the) end(s) couple get tightness by the rings on the removable insert that is placed in the body of the fitting and tube. Is the Kingdom set to tighten the nut that compresses the clamp, leaving the subject pipe and the sealed union. If you use the attachment with multilayer pipe is required the use of teflon gasket at the base of the end insert coupling.
In the different articles of the family, we will identify different measures available by dimension in inches or fractions of an inch to the threaded end, and at the ends snap depending on the outside diameter and thickness of the corresponding PEX/multi-layer tube. Among its applications, we have hot and cold water in plumbing supply, in radiators and underfloor heating systems.
In terms of manufacturing materials and their qualities, We have brass UNE-EN 12165 CW617N for hot forged parts (nut and body), brass UNE-EN 12164 CW614N for parts machined in bar (clamp and insert) and nitrile NBR rubber 70 for the seals.
Design and manufacture of this family of fittings is carried out in accordance with the standards UNE-EN 1254-3 and UNE-EN ISO 15875-3 for the material and measures of attachment and its fitness for use in hot and cold water installations, UNE - EN ISO 228-1 for the cylindrical gas thread, and in terms of the manufacturing process carried out under the procedures certified by the company according to ISO standard 9001 with the aim of ensuring a high quality production as well as an effective and long-lasting use of accessories.