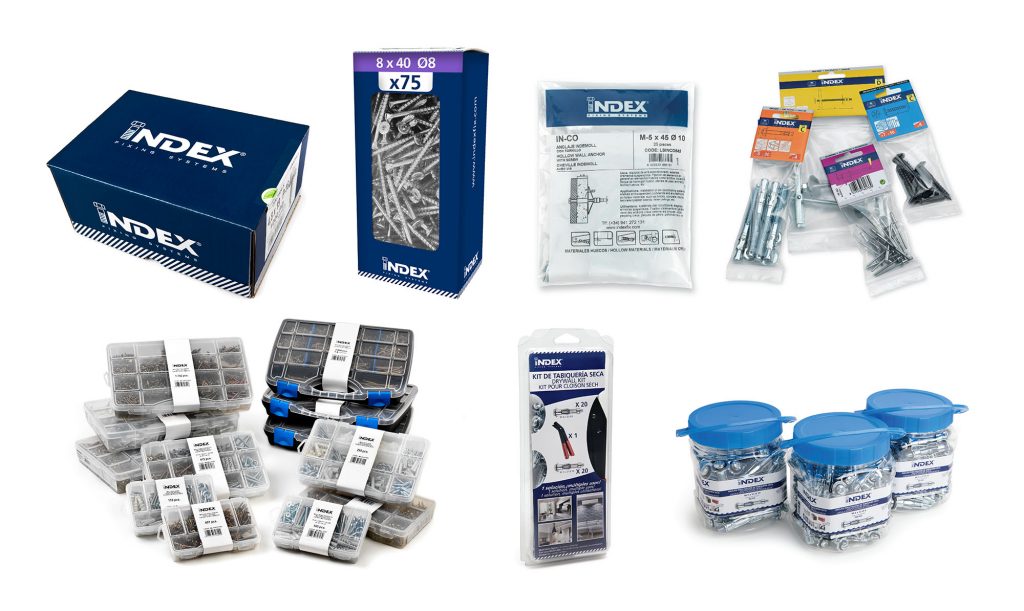 INDEX Fixing Systems, manufacturer and industrial fastening systems supplier, will be present at Eurobrico 2014, on the level 3, Pavilion 2, Stand C42. The company will present exclusively in the Valencian fair their new ranges of products free service and box with window, as well as its wide range of exhibition solutions and formats for multiple solutions.
New ranges of free service and box with window
New INDEX Fixing Systems self-service proposals seek to meet the specific needs of its customers. Like this, the new formats are more versatile and useful for the end customer, offering amounts and more manageable sizes for self-employed professionals and DIY users. In addition, the design of their packaging features, graphic and clear, basic information about the product, its installation and its functions, facilitating its identification.
The new ranges also provide better management of product to distributors and points of sale. Its packaging, easier to recognize and complete product presentation, speeds up the replacement, helps the article rotation, simplifies stock control and improves the presentation of the product, helping to drive sales.
Formats for multiple solutions
In addition to its free service and box with window ranges, INDEX FIxing Systems has a wide range of formats for specific needs, that includes their families of briefcases multimaterial ML, for laminated plaster or wood panels; the DIY Indemol and chemical fixing kit, with everything you need for installations simple and economic way; or cans of multi-material tacos.
Exhibition solutions
At the stand of Eurobrico of INDEX Fixing Systems you can see also a sample of exhibition solutions that the company offers to its customers. Customizable exhibitors optimize space at the point of sale and allow greater rotation of product. Two meters which will be showcased on Eurobrico contain a representative sample of the range of INDEX Fixing Systems, including the new free service, the new boxes with window and the range of blister; as well as products from the professional range and a selection of products from the range of sanitation principles launched in 2014.