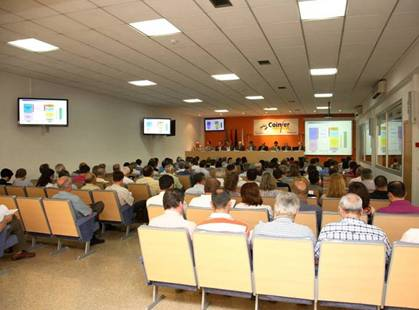 MAJOR S.COOP. It is a cooperative wholesale hardware dealers and retailers associated with close to of 200 hardware establishments, do-it-yourself and industrial supply distributed by Comunidat Valenciana, Illes Balears, Castilla - La Mancha, Aragon, Comunidad de Madrid, Castilla y León, Catalonia and Murcia Region.
Thanks to the Association all the companies of the group access the best conditions of purchase of the sector and advanced logistics services that individually would be difficult to achieve. You buy directly from the manufacturer, avoiding intermediaries, as the warehousemen, that it remaining margin.
MAJOR part of NCC, Central purchasing and hardware services, society which includes the commercial interests of the principal and most dynamic companies of distribution of hardware of Spain, that makes us leaders in prices and conditions for our partners.
MAJOR was founded in 1966, account with close to of 50 years of experience in the distribution of the sector, consolidated as a first-line company, with vocation of service to partners and with solvency and security to providers. It also has a team of highly qualified in all departments, offering the best every day in each of the services of the cooperative.
OUR VALUES
UNION together can more
Participatory management transparency and audited company
PROFESSIONALISM committed and experienced team
INNOVATION always with new technologies
Our raison d ' être the hardware service
QUALITY traceability processes
Trust security and compliance
EFFICIENCY always on time
EXPERIENCE 50 years of success in the market
Advanced Logistics and technology programming
Ever-growing development
FUTURE building with and for the associated hardware
PROXIMITY all services near you
Help solidarity between partners
COMMITMENT with the society and the environment
For more information: www.coinfer.es.