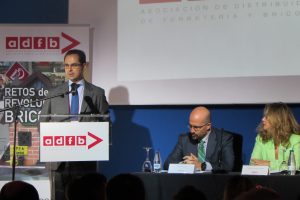 In the Truss Madrid room, with the collaboration of Eurobrico, sponsored by Oracle and Azkar Dachser Group, they met 160 the DIY sector professionals (Bosch, Plastics Tatay, Imedio, He rode, Imprex group, Desa group, Catral, Worx,…), to work aspects of logistics, e-commerce and online marketing.
On the day, Challenges of the revolution of the DIY, organized by ADFB with the collaboration of Eurobrico, and the sponsorship of Azkar Dascher Group and Oracle, gathered 160 professionals of the sector with the purchase of ATB teams, Aki, Alcampo, Bricor, Leroy Merlin, Bricogroup, WBC and Carrefour.
The opening was carried out by the Director General of the internal trade of the Ministry of economy and competitiveness, Mrs. Frontest Carmen Pardo, that will continue with the policies taken from 2011 to liberalize and reduce bureaucracy, facilitating the opening of new business and the growth of the national economy.
Susana Inn and Kleopatra Lamprou, Lery Merlin, they have highlighted the importance of a sustainable strategy for the success of a company, both from the point of view of the CSR and the quality and safety of products. "Generate value with your environment is profitable. Improves loyalty with your customers", stressed Susana. While Kleopatra emphasized that the European regulatory change, quality and safety of products, It's been very intense and you have to be fast to adapt to them, "prevent rather than correct" the best way is to do this.
Oracle, We introduced to the world of the "digital disruption" and of the "ibeacons" For more information of our customers in store and communicate in a more personalized way with them. "The store has changed and the customer wants more information for your purchase process", said Carlos Vicens of Oracle. On the other hand, Nicolás Sánchez, He made a demo of how the ibeacons and how they provide an added value and improve the experience of a customer's purchase.
Houser&Houser, in the hands of one of its partners, Alejandro home, It brought a new vision of the strategy in social networks, that it is taking advantage of the DIY sector. Networks like Instagram or Pinterest, they are completely abandoned by manufacturers and distributors, While in them, new "influencers" or prescribers, they are raising their projects and sharing information of great interest to know our customers.
Finally, in the hands of Fernando Sánchez Saratxaga (Briconatur), "revolutionized" room to let them reach a "evolution" that both manufacturers and distributors, they are aware that a higher pedagogy with the end customer is required, do linear easily understandable and relevant information both online and offline.
ADFB is the only entity representing the DIY distribution at the national level with more of the 90% the market between its members share (ATB, Aki DIY, Bricoking, Bricor (El Corte Inglés) and Leroy Merlin).