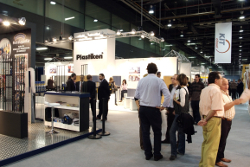 The Eurobrico contest, Fair international DIY, you already have dates for the celebration this year of what will be his seventh edition, of the 3 to 5 October at Feria Valencia. This the President of the contest was announced by Luis Franco, After meeting with the Vice Presidents of the Organizing Committee of the exhibition - Jose Maria Mera, WBC and Juan José Jaén Manager, President of Bricoking- to determine the strategy and lines future performance of the Hall on the occasion of his call of 2012.
"Faithful to our policy of ensuring the visit to the exhibition of major international buyers, and after collecting the demand for our exhibitors in the past two years, We have considered strategic to move the celebration of the event to the first days of the month of October with indefinite", Franco has secured.
"This measure - the maximum representative of the sample added- We will not only contribute to rationalizing the DIY and hardware industry trade fair calendar, avoiding coincide with other major industry events that occur in the Asian market; but it also Eurobrico can celebrate again parallel to the development of the fair Iberflora, with the benefits that this entails for the exhibitors of both samples, as for its professional visitors".
As he continued explaining Franco, Eurobrico and Iberflora (International fair of plant and flower, Technology and Bricojardín), they have signed a collaboration agreement whereby the co-organizarán the garden room as common to both classroom space. A sample containing the latest news and innovations of the bricojardineria market. Next to the garden sector offer, Eurobrico will show in 2012 the largest exhibition of products and services of the DIY industry: Since construction; wood; electricity; Tools; bathroom and plumbing; kitchen; hardware; painting; decoration or furniture. An offer that, year after year, is represented the 90% the national purchasing power, as well as the main signs of the distribution of international markets.