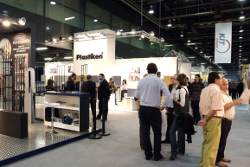 The international fair of DIY – Eurobrico now has a date on the calendar for the celebration which will be its eighth call, of the 1 to 3 October at Feria Valencia
The President of the sample, Luis Franco, He is already working on the renewal of the Organizing Committee of the show involving the most relevant industry professionals, on behalf of each of the segments that make up the world of DIY and hardware.
Sample that has the backing of the DIY sector since its inception has already again embarked on talks with the AFEB, Association of Spanish manufacturers of DIY and hardware; and in the last Assembly of the ADFB - Association of distributors of hardware and DIY, entity of which Eurobrico is a Member, the ADFB reiterated the support for the competition as a single sign of the sector.
As says Alejandro Roda, Director of Eurobrico, "This year is the final year of change. The economic situation is already pointing to recovery and we are firmly convinced that anyone who wants to continue within the sector and sell to distribution must be present in Eurobrico ' 14".
"Because let's not forget - adds- that the 90% of purchasing power meets in each of the calls for Eurobrico".
According to Roda, the attraction of the buyer's quality is the main bet for the living room and, in this sense, It has pointed out that it is already talking with new groups to add them to the project.
On this occasion, as already occurred in its call of 2012, the Salon professional's DIY will again coincide with Iberflora - international fair of plant and flower, Technology and Bricojardín in order to promote among both samples the Garden Hall. But also this year, synergies between competitions will multiply with the development in parallel with the contest fits, Fair store, Distribution and point of sale; and the second edition of the vegetable World-Salon of innovation and agricultural technology.