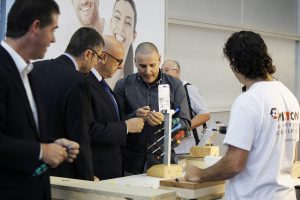 The 10th International trade fair for DIY, Eurobrico, to be held in the 3 to 5 October, This year reinforces its international dimension. To this end, He has held meetings with major chains of distribution for DIY from Belgium, France, Germany, Finland, Italy, United Kingdom, Russia, Turkey, Chile, Australia, Canada or Ireland. Eurobrico expects higher growth in the number of exhibitors and visitors this year and, In addition, you want to make demand more international effort to increase the possibilities of business for exhibitors.
At the national level, EUROBRICO Business Club will bring together the leading national distributors
With respect to the domestic market are already confirmed in the EUROBRICO Business Club program, all distribution groups of DIY operating in Spain. The same, they have also confirmed and visitors increase leading cooperatives and small businesses purchasing stations, groups of industrial supplies, construction stores, as well as distribution of proximity of the paint industry groups.