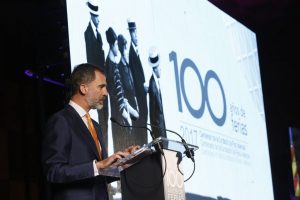 The Rey Felipe VI presidió ayer la conmemoración del centenario of Feria Valencia en un acto central celebrado en el Centro de Eventos del recinto ferial valenciana y en el que estuvo acompañado, among other authorities, por el presidente de la Generalitat, Ximo Puig; el ministro de Energía, Álvaro Nadal; el alcalde de València, Joan Ribó y el presidente del Comité Ejecutivo de Feria Valencia, José Vicente González. Este acto contó con una destacada presencia del comité organizador de EUROBRICO, con su presidente Luis Franco y los miembros del comité organizador Jose Luis Beltran and Javier Gil Vernet.
En su discurso, el Monarca destacó que los recintos feriales de España son "pilares básicos de la promoción comercial al aprovechar los mecanismos e instrumentos de la revolución tecnológica y de la globalización", al tiempo que valoró la "dimensión humana, contacto personal y presencial" que éstas ofrecen y que cree que la tecnología "no puede sustituir". "Las ferias son espacios únicos difícilmente sustituibles", remarcó.
El acto rememora la inauguración, the 10 May 1917, en el vestíbulo de la nueva Estación del Norte y el patio del Imperial Colegio de Niños de San Vicente Ferrer de València, de la primera Feria Muestrario de España, inicio de la actividad ferial en nuestro país. Por tal motivo, Don Felipe hizo entrega a Unión Gremial de un reconocimiento como la entidad que, hace cien años, alumbró una institución como Feria Valencia que hoy afronta el futuro con optimismo adaptando su modelo de gestión y negocio a los nuevos retos competitivos. En su último ejercicio, Feria Valencia acogió un total de 31 ferias y 37 eventos y reunió una oferta de 4.177 firmas y marcas expositoras, de las que un 26'8% eran internacionales de 39 countries. In 2016, Feria Valencia, In addition, acogió a 520.820 visitors, de los que 181.499 de ellos eran profesionales y un 14'2% de 152 countries.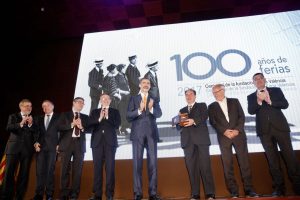 El papel de Feria Valencia como motor de la economía
En sus alocuciones, las autoridades reconocieron el papel clave de Feria Valencia y de la actividad ferial como motor económico. Like this, el ministro de Energía, Álvaro Nadal, indicó que Feria Valencia ha jugado un papel importante y ha conseguido que el proceso para producir más servicios y productos "haya ido a mejor". In fact, quiso destacar que el recinto ferial valenciano es "uno de los 10 mejores recintos del mundo" y España, "gracias a la feria", es el cuarto país del mundo en turismo comercial, solo por detrás de EEUU, Alemania y Reino Unido.
Para el presidente de la Generalitat Valenciana, Ximo Puig, Feria Valencia es el "mejor escaparate de las empresas", al tiempo que puntualizó que sin la existencia del recinto ferial sería "difícil explicar por qué la Comunitat ha aportado un reiterado superávit a la balanza española", que cifró en 12.400 millones durante el periodo 2015-2016. By this, subrayó que el renacimiento de la institución supondrá "un motor para generar empleo y oportunidades".
On the other hand, el alcalde de València, Joan Ribó, y presidente del Patronato de Feria Valencia indicó que la institución es "una herramienta de competitividad para la ciudad, para toda la Comunitat y también para España. El objetivo es que la actividad continúe creando negocio y empleo en la ciudad y a su alrededor y en los sectores como hostelería, hoteles, restauración, diseño o comunicación" a los que una Feria reforzada y global "supondrá un incremento en sus beneficios", enfatizó.
Finally, el presidente de la institución, José Vicente González, remarcó que, aunque hay que "acordarse del pasado", ahora hay que "mirar al futuro". "Algunos agoreros dijeron que con la aparición de Internet se acababa negocio de las ferias, pero se equivocaron. No hay nada que pueda sustituir el contacto personal y tocar el producto", remarcó González.