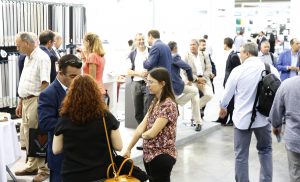 The international fair of DIY is the meeting point and reference for all national and international buying power. In this edition, that will open its doors from the 3 to 5 October, the contest has wanted to make a nod to the Commerce of proximity, fundamental for this event, confirming a commitment to having its presence in the international fair of DIY.
The competition team has maintained in recent months talks and meetings with different cooperatives and groups of purchase of the hardware sector, notably COMAFE, QF +, COFERDROZA, COARCO, MAJOR, PROFER, UNIFERSA or the Guild of Catalonia hardware, among others. The main objective in the words of the director, Alejandro Roda, It was not another "encouraged the visit to major hardware stores integrated into different groups contest. EUROBRICO is a source of essential knowledge for the small businesses. An unmissable where to exchange views with other colleagues, Learn about the new proposals of the suppliers of the sector, acquire knowledge in the different conferences of quality offered by the competition and, In short, be updated to further improve in a market that grows back."
Eurobrico has wanted to make a major effort so that small businesses can increase its presence in the contest. So, Special actions have been projected during the three days that will stay open the event and organize a space where helping the sector to improve point of sale; create spaces where you can hold meetings and networking events with customers, and support, more if possible, the Eurobrico Business Club initiative, the program of national and foreign buyers.
A dedicated effort for that trade in proximity can be identified as one of the core values within the international fair of DIY. Eurobrico held its 10 anniversary of the 3 to 5 of October and will convene at the Feria Valencia to all the purchasing power of national and international around the world of DIY.