The hardware and DIY sector continues to seek support, join the initiative
The sector claims its key role in the COVID-19 and Eurobrico crisis puts itself at its service to boost reopening
Have you not yet joined the initiative presented by the main operators that make up the Spanish hardware and DIY sector? You're on time. The sector, led by major distributor associations (ADFB) and Manufacturers (AFEB) and EUROBRICO, it continues to add support day after day and join forces to get the hardware and DIY businesses in Spain reopened.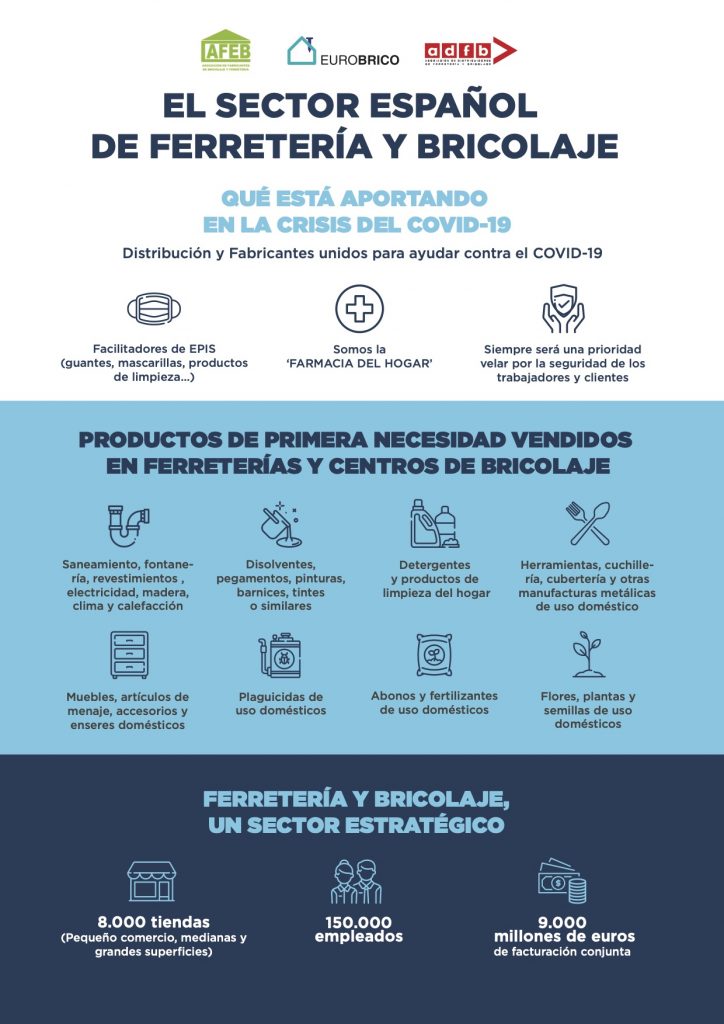 Professionals in the sector have been working together for weeks on a letter to the Minister of Health and the Secretary of State for Trade, stressing that hardware stores and DIY centers are "home pharmacies" and supplying necessities, without which no dwelling can continue to function.
In the menu they recalled that the hardware and DIY sector, made up of almost 8.000 outlets, "is trained to perform a controlled opening, with the requirement to ensure the safety of customers and employees, preventing the spread of the disease". By this, requested that it be allowed to open in an orderly manner, now that the emergency situation is starting to be under control, and that the hardware and DIY sector was declared a priority.
This movement wants to have all the players in the sector, many of which have shown interest in joining the support movement for our sector.
If you're an association or a distributor, Cheer up. JOIN THE INITIATIVE!!
Organizations that have signed the letter
ADFB - Association of Hardware and DIY Distributors. Made up of Leroy Merlin, Brico Deplet, BricoCentro and Bricogroup.
AFEB - Association of DIY and Hardware Manufacturers. Integrated by 108 Suppliers.
AGREFEMA - Madrid Hardware Guild.
GREMI DE CATALUNYA DE COMERCIANTS DE FERRETERIA
EHLIS / CHAIN 88 – Hardware chain integrated by 1.370 Shops
COARCO - Canarian cooperative with more than 260 Hardware stores
COMAFE - Madrid cooperative with near 300 Hardware stores
COFERDROZA – Cooperative 385 Hardware stores
COINFER - Valencian Cooperative with 175 Hardware stores
QF+ - Catalan Cooperative with 370 Hardware stores
LAS RIAS - Galician cooperative with 130 Hardware stores
EUROBRICO - International DIY Fair. It is held every two years at Feria Valencia.
LAMS EUROPA - Hardware Store Purchasing Group. Comprised of four wholesalers
UNIFERSA - Galician central shopping, integrated by 168 hardware stores and industrial supplies
BRICOSORIANO - Madrid chain of DIY centres, with three outlets
GCI - Purchasing group made up of a hundred hardware stores and industrial supplies.
CECOFERSA - Hardware and industrial supply purchasing plant integrated by 240 outlets
GESIN - Industrial supply procurement group made up of 39 outlets
ASIDE - Industrial supply procurement group made up of 57 outlets
ALMACENES FERRETERIA SAN RAFAEL - Cordoba wholesaler of hardware
NCC -Central purchasing and services of power plants that bring together more than 1.000 outlets
FERBRIC - Hardware Chain with 86 points of sale with national implementation
BAUHAUS, – DIY chain with 11 centers in our country
JULIAN CELDA -Central purchasing implanted in the east of the country.