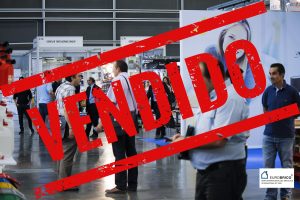 The next edition of Eurobrico that will open their doors in Feria Valencia of the 28 to 30 September, He has hung the sign of full. The contest reference in Spain of the sector of the hardware and the DIY again to convert is, one more year, at the meeting point of reference so that the main firms in the sector show their innovations to the market.
The pavilions of 2 and 4 of the level 3 of the enclosure fair will host it last for the improvement of the home and of the garden, i.e. the "Home & Garden Improvement". The team of the contest has worked intensely to restructure the space and power give fitted to all them interested in go to the CITES. According to the director of the contest, Alejandro Roda, "This fact confirms the recovery of the sector and predicts an Edition with success of business".
Likewise, Eurobrico will return to gather at the 100% demand: proximity shops, large and medium-sized distributors, cooperatives, purchase groups, building material chains, large areas of power, decoration stores, Gardens centres, industrial supplies, bazaars… as well as large global distribution chains.
By the time, Thanks to the Eurobrico Bussiness Class program, have confirmed their visit a numerous group of buyers, all them important responsible of purchase of large chains of distribution from of countries like Germany, Austria, Belgium, Estonia, France, Ireland, Iceland, Italy, Morocco, Portugal or Switzerland.
The contest dates match Iberflora, the international fair of plant and flower, Landscaping, Technology and Bricojardín, What will make up a greater commercial showcase, mainly in the garden room.