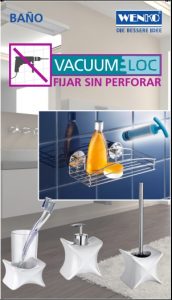 This is its brand name and its challenge. His ideas come from everyday life and its products are designed to make life easier and enjoy the home. They are practical, easy to handle and with a spectacular design. Based on this premise, Wenko launches every year more than 250 What's new in the Spanish market in bath, Ironing facilities, Management and kitchen.
In bath, 2014 is the year of the Vacuum, new patented fixation without drilling system. Place and changing accessories in the bathroom, never been so easy. It is the year of simplifying the choice consumers with Classic and Premium implementation system. First choose attachment we want in stainless steel or chrome plated and then locking system. It's that easy!
The year of the color with the Brazil series, Polaris Metallic, Monaco and Bristol, the freshness with the Marine series, elegance with X-Form series, Tundra, Sings, Havana, Pure and Cayenne, nature and Forest and Cuzco series and year of elegant and new forms of escobilleros.
In addition, WENKO launches their co-ordinates with perchitas, watches, scales, mats, curtains and covers of WC game in various and innovative designs (Frog, Spa, Meditation, S&S), new cubes pedal current design game with toilet lids. The year of new LED mirrors, new scales,… The year of design in the bathroom within the reach of everyone.
In management and ironing, new ideas with pongotodos wheels and different formats, the new Adria shoemakers and the hangers for clothes make that you save space in the home in an efficient way, practical and elegant.
In addition, the new tendedereos and ironing boards are in accordance with the reality of Spanish households with new forms of pressed.
The design and practical ideas to acquire its maximum expression in the kitchen. New ideas (support for garbage bags, towel racks for cloths, non-slip sheets of colors, grids,…) to facilitate the daily work without forget care and spectacular design.
Finally, highlight the new models of plates cowl that give a touch of sexy and special to the kitchen to get more space to cut, Peel, o, simply, win more countertop. All game with clocks and balances to achieve the desired and a spectacular cuisine. Everything to simplify the home life in a practical way.