Eurobrico, the international DIY fair, will be held in the 6 to the 8 October of 2020 at Feria Valencia I agree with Iberflora.

Valencia, 29 May 2020.- Eurobrico, the international DIY fair held in the 6 to the 8 October at Feria Valencia, launches THE EUROBRICO COMMITMENT, a statement of intent to reaffirm the confidence that the sector has historically placed in the. This commitment, is structured in the following points: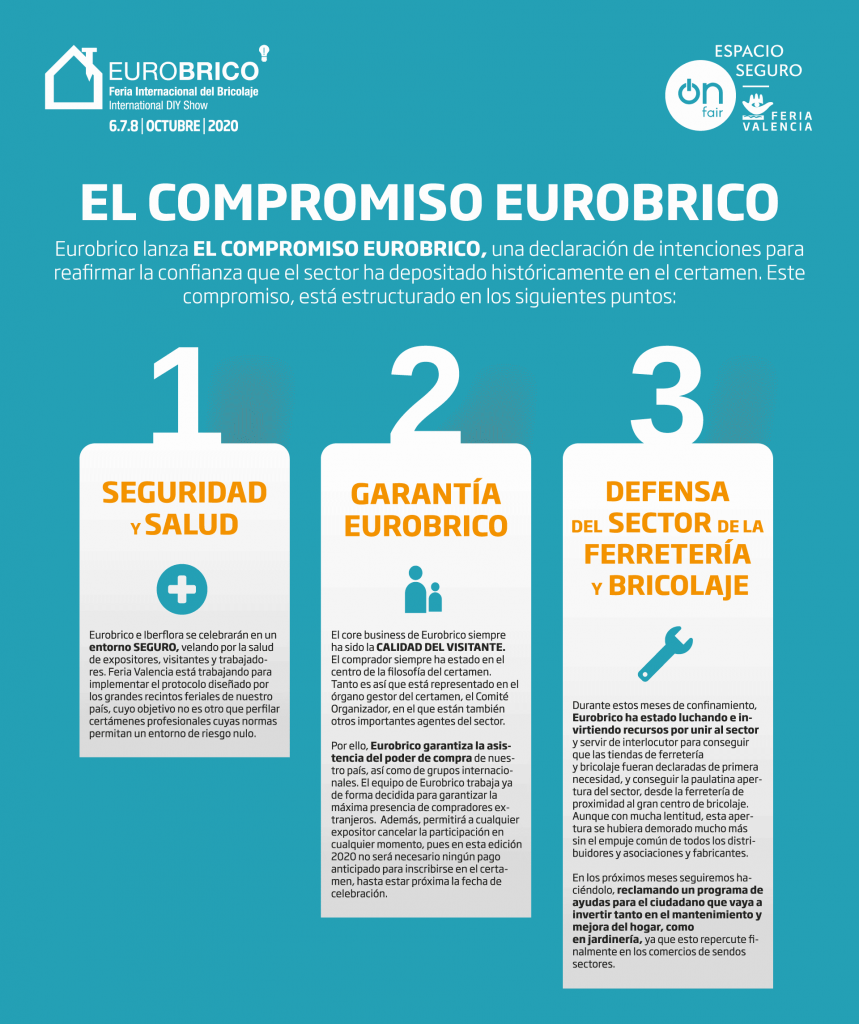 Commitment No. 1: SAFETY AND HEALTH
Eurobrico and Iberflora will be held in a SAFE environment, ensuring the health of exhibitors, visitors and workers. Feria Valencia participates with the large fairgrounds in a protocol, whose objective is nothing but to hold competitions in a safe environment, maintaining all the health and social distance measures required every moment.
Commitment No. 2: EUROBRICO WARRANTY
Eurobrico's core business has always been the QUALITY OF THE VISITOR. The buyer has always been at the center of the pageant's philosophy. So much so that it is represented in the governing body of the contest, the Organizing Committee, where other important players in the sector are also.
By this, Eurobrico guarantees the assistance of our country's purchasing power, as well as international groups. The Eurobrico team is already working decisively to ensure maximum presence of foreign buyers. In addition, will allow any exhibitor to cancel participation at any time, because in this edition 2020 no advance payment will be required to register for the contest, until the date of celebration is near.
Commitment No. 3: DEFENSE OF THE HARDWARE AND DIY SECTOR
During these months of confinement, Eurobrico has been fighting and investing resources to unite the sector and serve as a partner to make hardware and DIY stores declared a major need, and achieve the gradual opening up of the sector, from the proximity hardware store to the big DIY center. Although very slowly, this opening would have been delayed much longer without the common thrust of all distributors and associations and manufacturers.
In the coming months we will continue to do so, calling for a citizen's aid program that will invest both in home maintenance and improvement, as in gardening, this ultimately impacts the businesses of the two sectors.