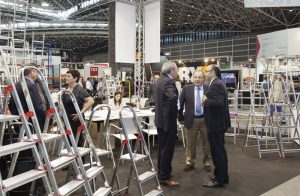 EUROBRICO, Fair international DIY, faces its eighth edition with very positive figures, in the absence of three months for the meeting already has with the 85% of the contracted space. This percentage is higher than in the previous edition, and assumes, According to its director, Alejandro Roda, "the consolidation of EUROBRICO as the point of reference for the entire sector of DIY in Spain, "as well as confirmation that the economic recovery in the sector is beginning to become a reality".
Not in vain the motto chosen by the contest for its eighth edition is "Join the recovery", a direct appeal to the companies in the sector to be participants of the revitalization of the economy "doing business in EUROBRICO of the" 1 to 3 October", as stresses Roda. In this regard, the director of the contest, Remember that the 90% the purchasing power of the Iberian Peninsula it will be present at EUROBRICO, In addition to the most important European distribution chains integrated in international trade missions.
In this new edition EUROBRICO echoes of the needs of the market and extends its action towards the concept of Home radio & Garden Improvement, which extends the Mission of the contest to cover everything to do with home improvement. This objective is strengthened with the celebration together with the Salon of the garden of Iberflora, that will be much more interesting visit to Feria Valencia of the representatives of the different channels of purchase.
Along with the purchasing power of present in the EUROBRICO contest 2014 you're setting up a series of parallel events of interest to its exhibitors and visitors, It will cover not only technical issues, but they also take on the more supportive side of the contest. Alongside catwalk news or the delivery of the EUROBRICO awards to the most outstanding companies in the sector, the event will include training workshops and a solidarity workshop conducted by the Foundation Txema Elorza within his campaign "A neuron for Alex".
EUROBRICO 2014 will be held in the 1 to 3 October 2014 at the Feria Valencia, coinciding with Iberflora, International fair of plant and flower, Gardening, Technology and Bricojardín; Plant World, Forum professional of innovation and agricultural technology, and it fits, Fair store, Distribution and point of sale..