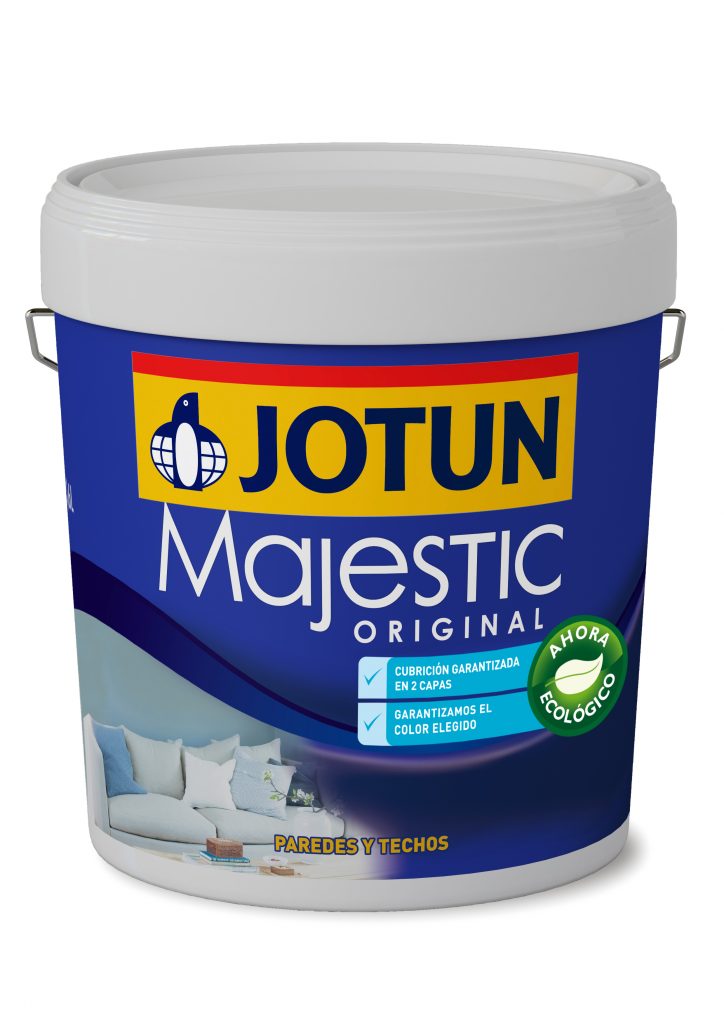 "The journey towards a world more green and full of color begins with one step", and Jotun has decided to advance its commitment with the environment by launching its first sustainable paint: Majestic Original ecological.
The new range of Jotun is the result of the intense work done by r & d of the company and has the label Ecolabel. This certificate, international reference, It ensures that Original Majestic ecological paints do not contain heavy metals, carcinogenic, or toxic substances; they release fewer volatile organic compounds, and their pigments have been following strict ecological criteria
Jotun has created its first ecological decorative painting thinking especially of those people concerned about their health and the environment. It is also the best solution for fill color spaces such as hospitals and medical consultations, nursing homes, Office buildings, or schools and nurseries, among others.
Organic Original Majestic offers the same quality as the rest of Jotun paints, with the added value of having very low levels of solvents, Since these have been replaced by alternatives to water, and has been removed from the production process any harmful raw. In this way, the new proposal of Jotun becomes the most suitable paint for people with respiratory problems and allergies. In addition, the environmental impact of the new range is also lower since its special composition improves the quality and durability of the product.
The first ecological Jotun paint joins the Majestic family, the only guarantee of color and coverage in two layers. , Organic Original majestic thus joins Majestic Original, It offers a smart matte finish and silk, and Majestic Resist, chosen product of the year 2013 for being the only painting that repels stains, It resists the scratches and can be washed, complete painting interior Majestic solutions.
Green Steps, the environmental commitment of Jotun
Since its inception, Norwegian paints brand has been clear that set trends and offer innovative solutions to create unique and personal environments in homes should be attached to the use of sustainable products and technologies. For this reason, Jotun has an elaborate environmental policy, called Green Steps, and has as main objective contribute to the protection of the environment, offering sustainable solutions to its users. In this sense, the company is working to reduce emissions of harmful gases into the atmosphere, reduce the use of hazardous materials, achieving greater energy efficiency, reduce the CO2 footprint in our environment and generate less waste in all its production facilities.
About Jotun
Iberian Jotun, S.A. It is the Spanish subsidiary of the multinational Norwegian Jotun A/S, with factories and offices in more of 50 countries. Iberian Jotun is a specialist in the production of paintings from Decoracion-construccion, Industrial, Marine, Nautical and megayachts. The bet of the Jotun group by constant innovation for the production of high quality products, technologically advanced and environmentally friendly with the environment has become one of the leaders in the world market of paintings.
www.jotun.es